Biodegradable Glitter
Made from Eucalyptus Extract. Buy your own online or hire our Glitter Angels for your next party, wedding or festival!
Book the glitter angels!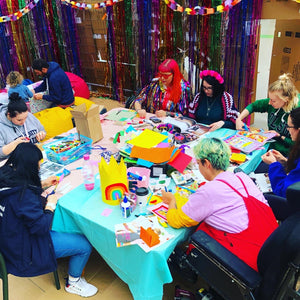 Parties & Events
Birthdays, festivals, corporate retreats- whatever your next event, have Calamity Tash add some signature sparkle. DIY Crafty Parties, drop in art stations, decorations, photowalls and more! 
Celebrate With Me!
Classes & Workshops
Working with local communities and organisations, Tash proudly shares her "Craft Logic," skills and creative thinking techniques. Bespoke workshops and events always available.
Contact tash.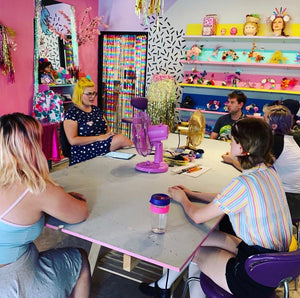 What My Party Guests Say
My granddaughter Raven had her 4th birthday party at The "Studio Adl & they all had a wonderful time! Such a sparkly colourful place, with so many different crafty bits & pieces, it's perfect for girls of all ages. A big thanks to Tash for all her help & patience while the girls made their gorgeous crowns ❤️👸🏼"
Dianne Howson
Tash literally gave us the best night of my life at my crafty birthday party! The Studio has the best atmosphere, the coolest vibe, and Tash is so fun and supportive and helped us create some amazing flower crowns for our night out! Cannot recommend this enough 😍
Emily Bey