Biodegradable Glitter
Made from Eucalyptus Extract. Buy your own online or hire our Glitter Angels for your next party, wedding or festival!
Book the glitter angels!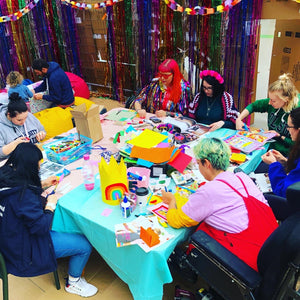 Parties & Events
Birthdays, festivals, corporate retreats- whatever your next event, have Calamity Tash add some signature sparkle. DIY Crafty Parties, drop in art stations, decorations, photowalls and more! 
Celebrate With Me!
Classes & Workshops
Working with local communities and organisations, Tash proudly shares her "Craft Logic," skills and creative thinking techniques. Bespoke workshops and events always available.
Contact tash.